Theodore Levitt once said, "Creativity is thinking up new things. Innovation is doing new things."
For nearly 40 years and counting, we've continued to pull from both sides of this spectrum to develop our products and manufacturing processes.
Much like with most things in life, there's always a need for evolution. The pail manufacturing industry is no different as there's been a growing demand and increased pressure to use recycled content for pails.
Rather than seeing this as a problem, we took it as an opportunity…. An opportunity to live out our mission of Pioneering and delivering imaginative packaging solutions driven by our passion to serve.
More recently, the pail manufacturing industry found itself at a crossroads between old processes and the future. It was at this juncture we developed a brand-new manufacturing process – Regenesis.
In collaboration with ENGEL and Top Grade Molds, our team at M&M Industries provided the pail mold to develop this approach that defies conventional processes for sandwich injection molding.
Through the Regenesis process, a five-gallon pail is produced using a core that's made from post-consumer recycled material and is then encapsulated with layers of virgin material.
On paper, using recycled content to build a new product sounds ideal for creating and sustaining a circular economy for plastics.
But, those in the industry know that incorporating recycled materials has the potential to compromise product quality and/or performance if executed incorrectly.
These concerns stayed top of mind during the development stage of this innovative manufacturing process.
Historically, two molten plastics were combined in a pail mold, however, the two materials avoided mixing beforehand in the melt stream.
Regenesis, on the other hand, alternates between the recycled material and the virgin material at the cavity injection point through a co-injection valve gate.
Let's learn more about the Regenesis pail manufacturing process.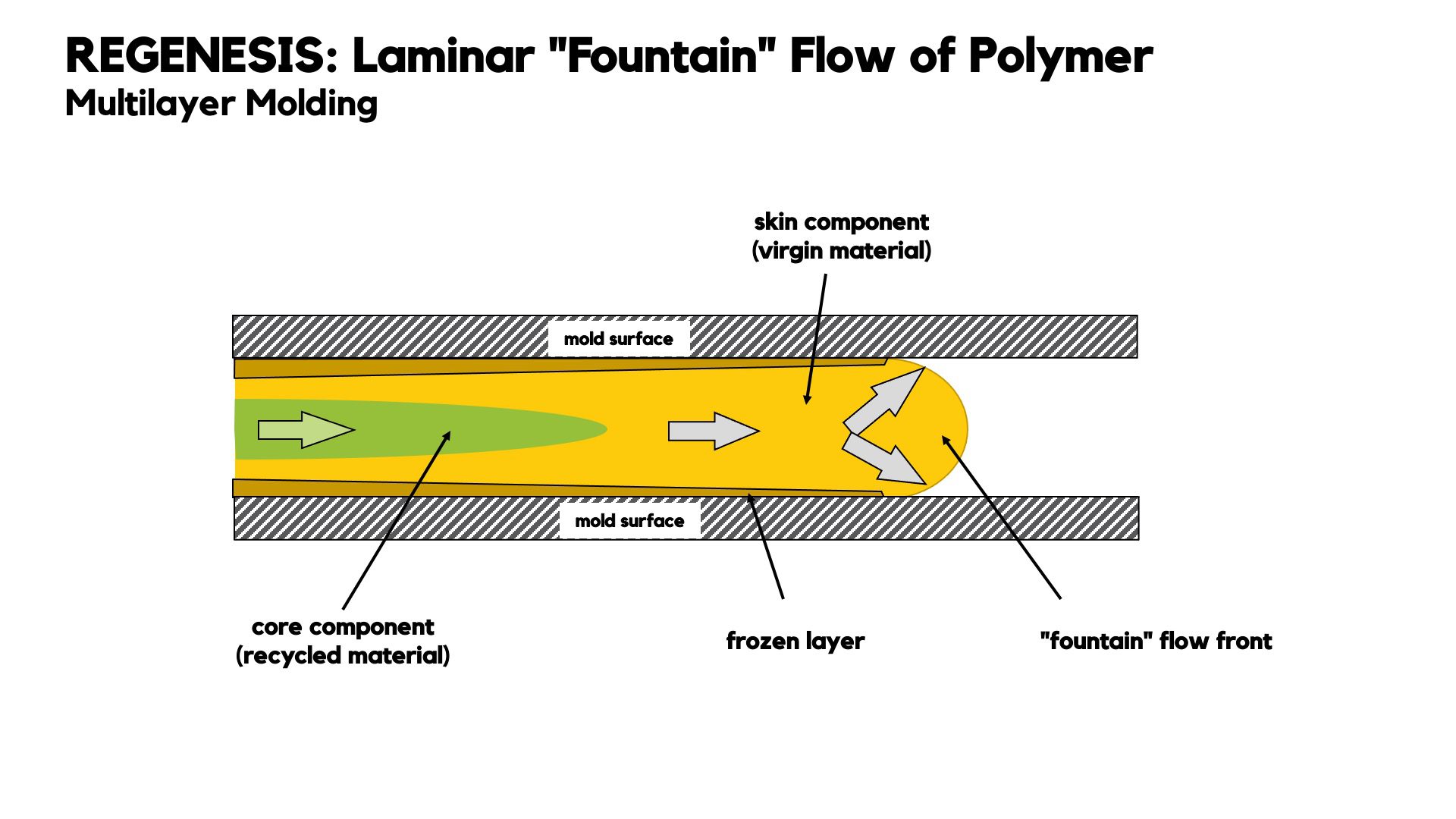 The Regenesis Process
The Regenesis process is a turn-key solution for pail production and is carried out on an ENGEL duo speed injection molding machine. This machine was developed specifically to meet the requirements of pail, storage, and transport container producers.
Here's how the co-injection process works.
The recycled core material is sandwich-molded between two layers of virgin material.
The exterior virgin material is injected which is then followed by the recycled core material and finished off with an additional layer of virgin material to fully encapsulate the core.
As a result of this process, no core material breaks through at the gate or the lip.
An added benefit of leveraging the Regenesis manufacturing process is that both the exterior and interior virgin materials and recycled core materials are of the same type which ensures that the parts can also be recycled in the future.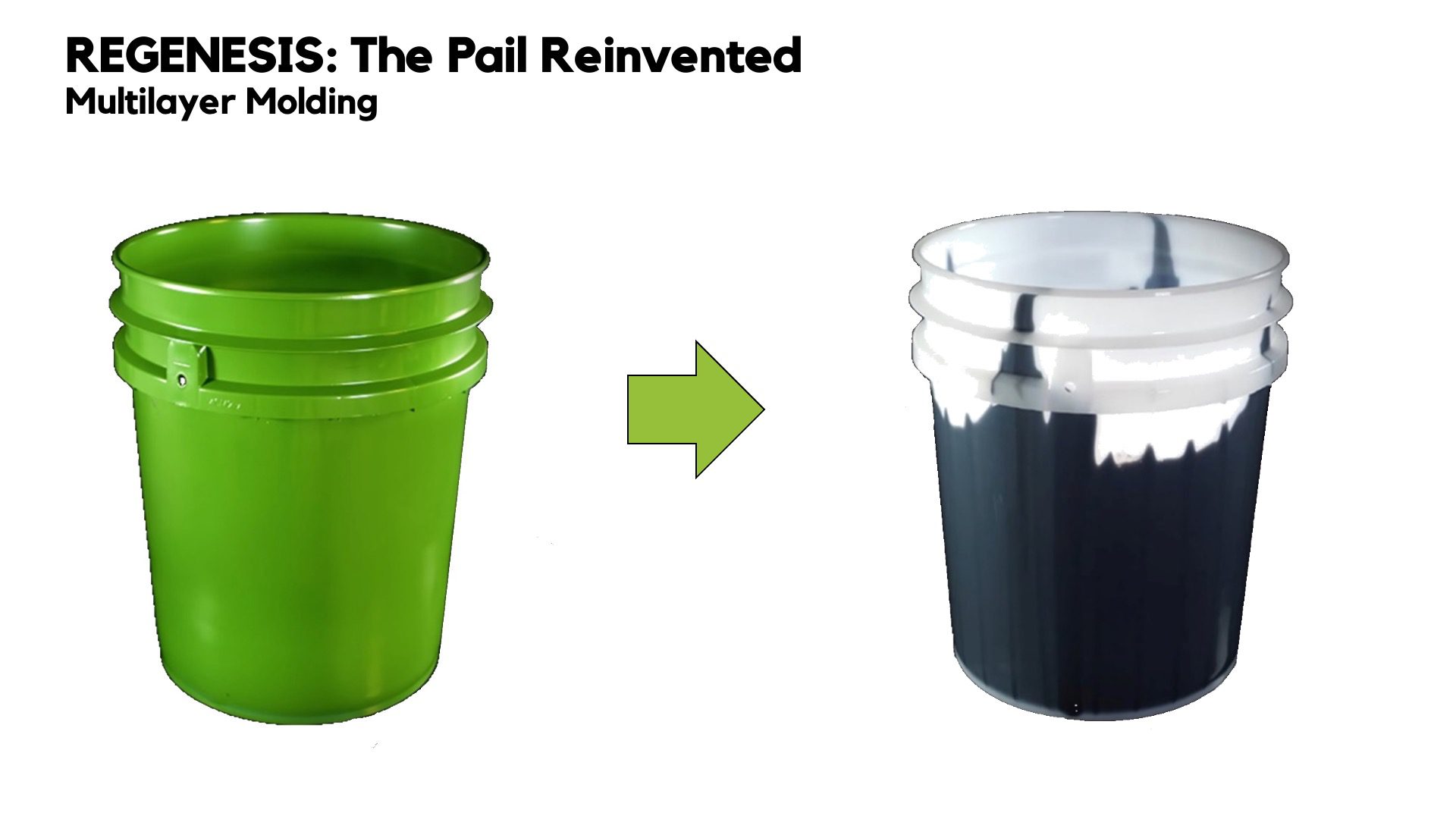 The Finished Product
As the industry's growing commitment to the environment by using recycled materials intensifies, states such as California and New Jersey are setting a precedent by putting legislation in place that ensures companies improve their manufacturing processes.
In fact, at the beginning of 2022, New Jersey passed Senate Bill 2515 which requires producers to "incorporate up to 50% post-consumer recycled (PCR) content in rigid plastic containers and up to 40% PCR content in some plastic bags over a period of several years."
M&M Industries is prepared for this shift as every pail that's made using the Regenesis manufacturing process meets and exceeds the recycled content requirements for California and New Jersey.
As a US-based plastic pail manufacturer, Regenesis is a testament to our commitment to providing our customers with value through our products and manufacturing processes.
We believe Regenesis is the manufacturing process of the future and will positively impact a sustainable future for the plastics industry.
If you'd like to learn more about Regenesis, contact us at [email protected] or 1-800-331-5305.